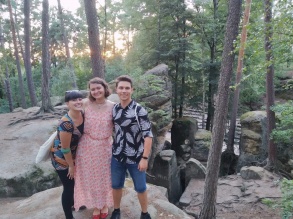 I am sitting and thinking there in my room in Česka Lipa Czech Republic far from home.
I waited 1025 days. During these 1025 days, thanks to the sky or this world, I learnt more than I could ever dreamed. Now I am volunteering with A.I.M. organisation in European Solidarity Corps project for a year to improve competences living in Czech Republic, the same town that I had my first Erasmus+ youth exchange project and promised myself to come back.
Luckily, I am not alone here. There is Adam from Poland, an energetic guy that I have met in projects twice, and dear Alma from Italy, that we both have only met a little bit more than a week ago. Our Team AAA everyday learning to live together, going for adventures, experiences and challenges and growing with help of A.I.M. team.
One day we taste some polish "kluski" while the other italian "parmigiana di melanzane". But my heart dances the most when I make something from Lithuania, my home. Starting with handmade ice cream or some biscuits finally leaded to ŠALTIBARŠČIAI with all of the colours of the summer and "SPORTBATIS" (grated potato dish. Name translated would be "sport shoes" as my family calls it).
Two weeks yet so much has happened already. From strafe of popcorns to awesome grill party with A.I.M. team and friends, from learning to use public transport to getting lost in the dark somewhere near a river in non-exciting paths, from each day meeting friends or creating new ones to lovely music. We all love music and that takes me higher than heaven as we sing or when Adam's fingers dance through keys of piano.
That is our life these past few days, finding something new about ourselves and each other and step by step becoming a lovely team to create something beautiful.
Aušra